Mobile marketing, are you tracking the latest trends and the impact on small business? This weekend I read the summary of the new study on SmartPhone consumer trends in the U.S. from Market Authority, Inc.  The study finds that nearly 6 out of 10 SmartPhone owners look for a business without knowing the specific name.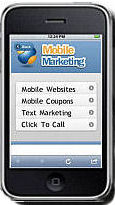 Here are some key findings from the study about SmartPhone users:
Three-quarters of Smartphone users search for a local business using their phone (either by specific name or by category)
Nearly 8 out of 10 consumers with a SmartPhone send text messages
SmartPhone users are 2 times more likely to text than non-SmartPhone owners
Younger consumers are 2 time more likely to text (using either a regular cell phone or a SmartPhone) than older consumers.
Consumer with SmartPhones visit Facebook over 50% more often than non-SmartPhone users in a given month
"SmartPhone ownership and expanded usage are growing at a rapid pace, and not just in major cities," said Steve Sitton, founder and CEO of Market Authority.  "Our nationwide research shows that suburban, smaller metro and even rural areas have strong SmartPhone penetration, which means advertisers in those markets need to prepare their mobile strategy a lot sooner than they may assume."
How would you use this research to steer the marketing investments in your small business?
Answer the following questions:
Is text messaging part of your marketing strategy?
Do you use text messaging in your promotional campaigns?
Do you capture mobile phone numbers as part of your normal business operations?
Do you have a mobile web site or a web site optimized for mobile devices?
Are you using QR codes?
If your answer is no to any or all of these questions, we can help provide solutions.  If you're just getting started or need a mobile marketing tune-up contact us today.