Local online marketing is quickly becoming the way to advertise. How much of your advertising budget is devoted to the yellow pages? Perhaps now is the time to reconsider that approach.
Several Seattle news sources are reporting that the Seattle City Council is the first in the nation to pass an ordinance dealing with the volumes of unwanted books delivered to its residents on an annual basis. The city says it spends approximately $350,000 a year recycling phone books.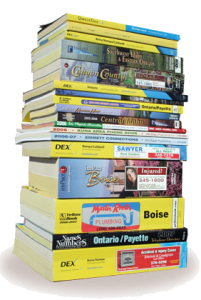 How much is your business spending on advertising in those yellow pages that no one sees?
Seattle City Councilman Mike O'Brian lead the effort giving residents the option to say 'no thanks' to having one of those books dropped off on their door step.
Yellow page directory publishers will be charged a 14 cent per book recovery fee and publishers will be fined up to $125 for delivering a book to someone who doesn't want it.
The 14 cent fee per directory will fund a new opt-out registry managed by a third party. The new registry is expected to be in place by July 2011.
This new law is widely reported as the first of its kind in the nation, transferring the costs of recycling the yellow page books back to the publishers. The City of Seattle estimates 2 million phone directories are distributed annually.
Other cities such as Albany, NY, Denver and Portland, Oregon are considering legislative ideas to limit the distribution of unwanted yellow page books.
If you're not already doing some form of local online marketing or Search Engine Marketing, now might be a good time to get started. For those of you already with an online marketing strategy, now might be the time to adjust your tactics and allocate more dollars to online marketing.