Local Online Marketing and Advertising Gets a Boost from Google
Local online marketing has changed with Google's announcement today of their new location-based online advertising solution called Boost. Boost leverages 'Google Places, which is their free business listing offering, The beta

test launched in Chicago, Houston, and San Francisco today. Business owners will be able to create Boost location-based advertising directly from their Google Places account. Boost could substantially improve the process for creating ads, removing complexity and costs for the small business owners.
Boost ads are eligible to appear in the "Sponsored Links" of Google.com and Google Maps search result pages. When a map appears alongside the results, a blue pin will help people quickly find the small business location on the map.
Google expects Boost to provide local business owners with a quick and easy way to share information about themselves with the people who look for them online. Placement in the "Sponsored Links" section of the page will, as always, depend on factors such as your ad's relevance and quality. Google says Boost does not affect the ranking of the free, organic business listings in any way.
This is the company's first major announcement in location-based advertising since Marissa Mayer was charged with leading Google's location services.
No timeframe was provided for the length of the beta test or the availability of other cities at this time.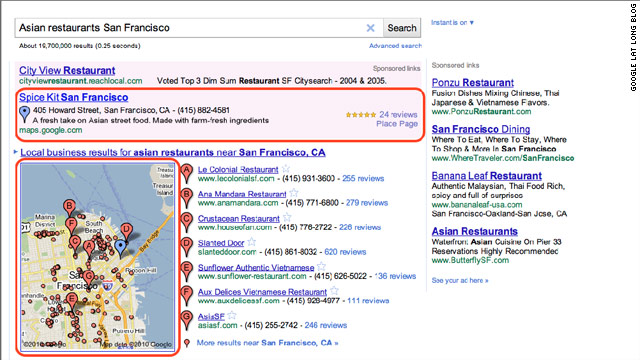 Google Boost example
Source:  Google Lat/Long Blog